Life Coaching For Physicians
Turn An Overwhelmed Life Into A Fulfilled Life
Filled up life? Or a fulfilled life? The choice is yours. As a high-performing surgeon, you deserve a coach who understands you and what you're going through, and how to shift gears.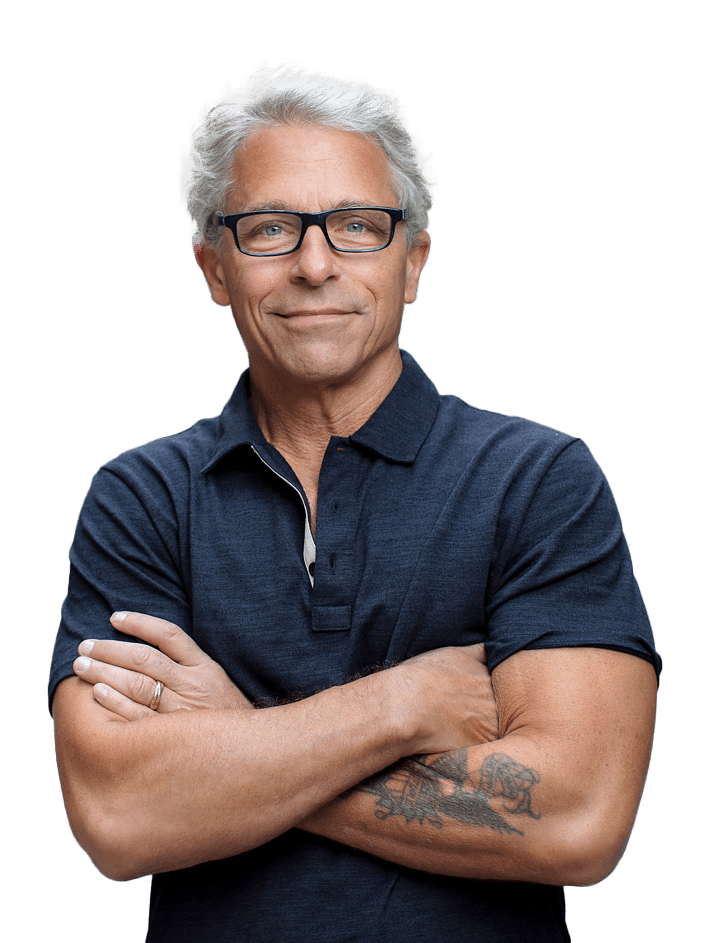 Finally feel seen & understood
Focus on what matters most
Find true peace of mind & fulfillment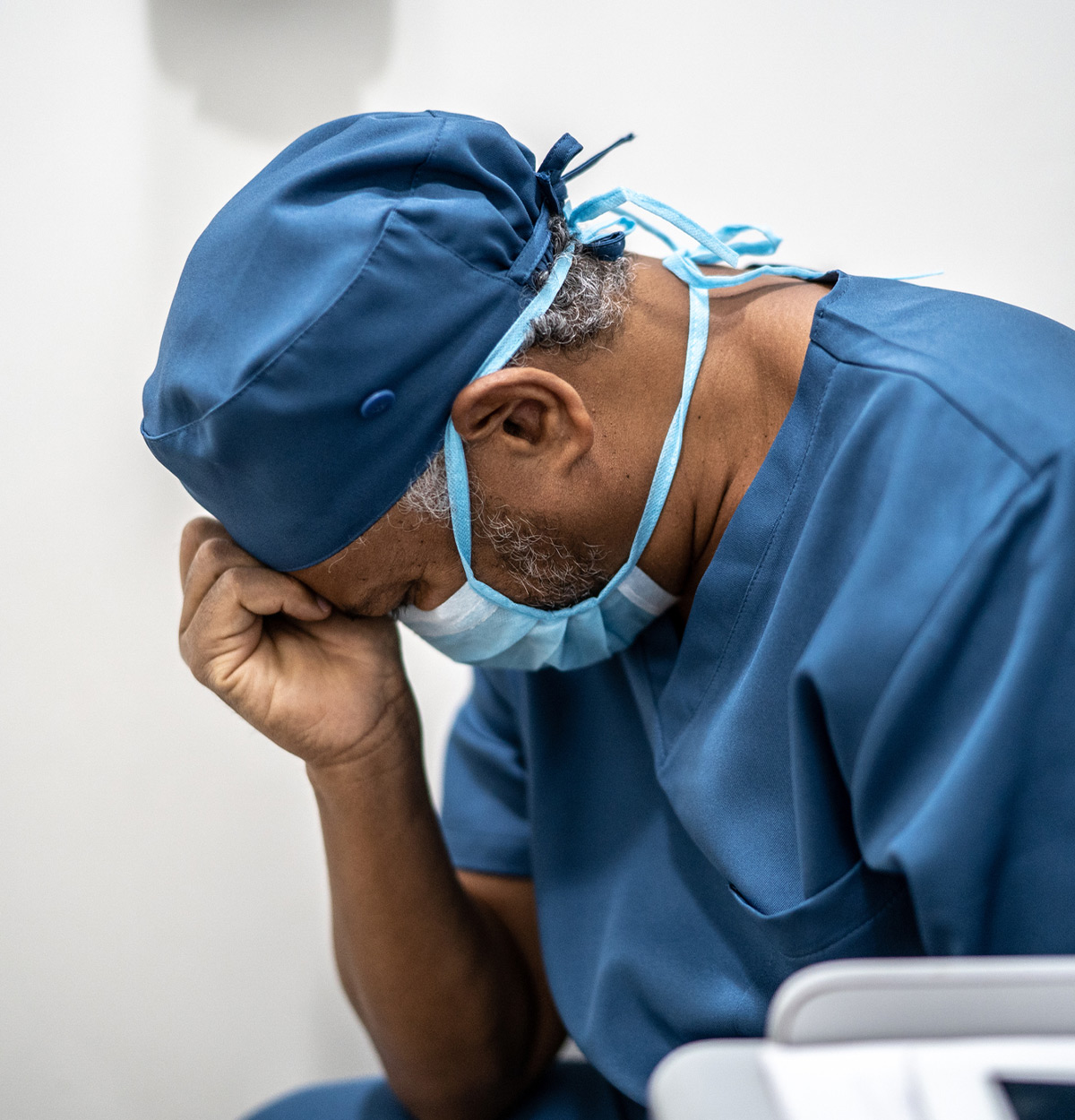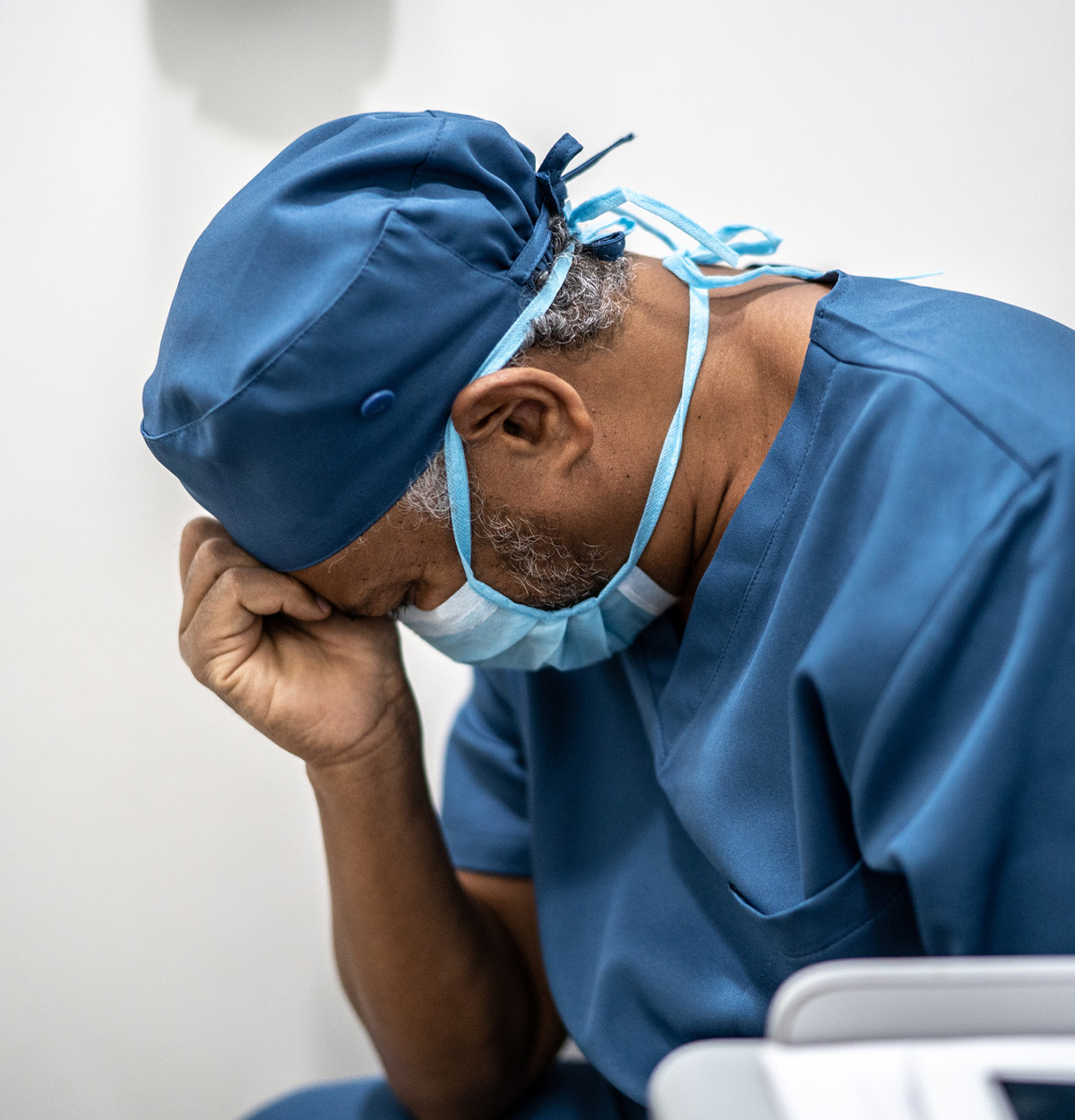 Have You Stopped To Examine Your Life As Closely As You Examine Your Work?
Surgeons live by the best practices to ensure the best outcomes at work. The demands of showing up fully for your career can take a toll on other important aspects of your life.
Are you experiencing:
Building frustration with "the little things"
Feeling like something is missing
A sense of loneliness or isolation
As if you have lost the real "you" in the fray of medicine
You deserve to live a fulfilling life.
There Is More To Life Than Optimizing Yourself Like A Machine
Have you spent so much time optimizing, perfecting, and strategizing your days that you've forgotten what the real you needs to thrive?
Do you feel like there is more to life than fitting the role you've been molded to?
Are you wondering if there is more to life than being the best surgeon in your field?
Now is the time to optimize your life for you. Find the courage to say "YES" to the things that matter to you, and no to the things that are sucking the life out of you.
Schedule A Discovery Call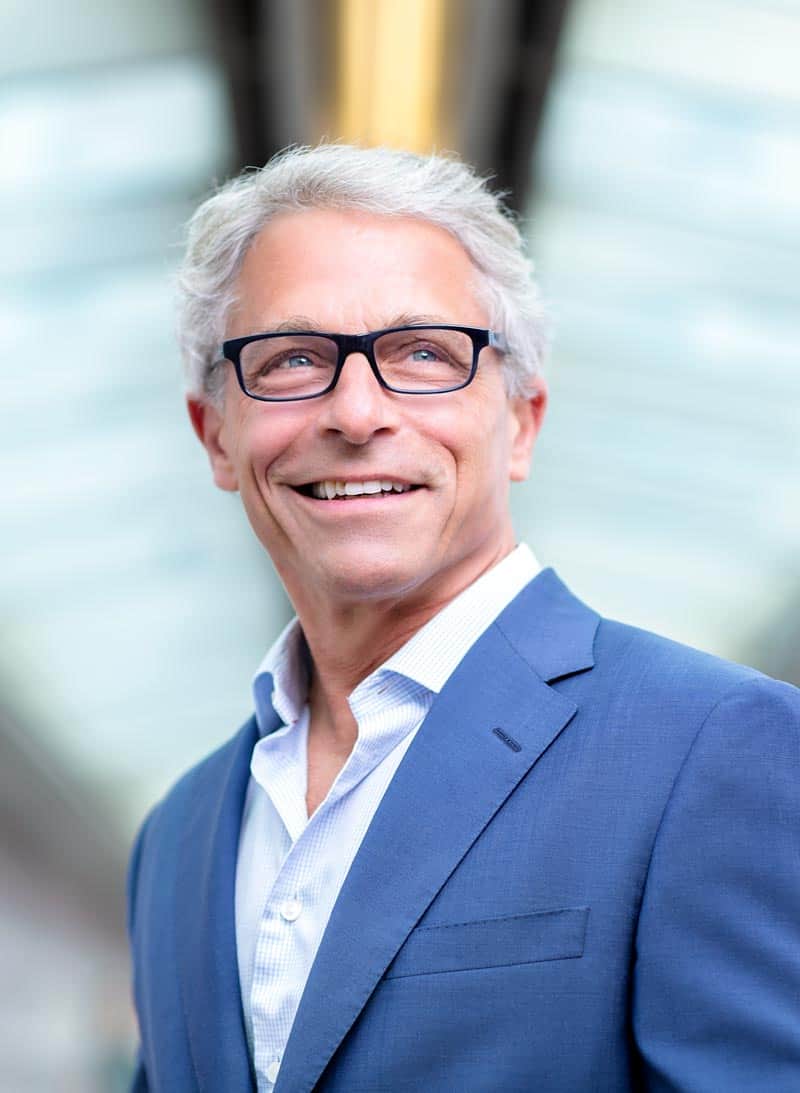 I Learned How To Tune Out The Noise So I Could Tune In To My Unique Self
I was an academic cardiothoracic surgeon for over 20 years. The thrill of developing a robust clinical practice and academic career kept me going, and going, and going toward new heights…
Faculty of the University of Minnesota Medical School
Professor and Vice Chair of the Department of Surgery (where I held the Garamella-Lynch endowed chair)
Program Director of the Department of Surgery's general surgical training program
The excitement and energy of my early career slid into a slow downward spiral as I became overextended, overwhelmed, and running on a treadmill that seemed to have no emergency stop button. The stress built up over time right alongside the accolades, until I broke, and spiraled all the way to the bottom.
There is a crack in everything. That's how the light gets in."
And it was at my bottom that the light came in. I climbed my way out of the pit. I developed new perspectives and habits, studied the science, and discovered a path to living a fulfilled life; one of greater contentment, sense of purpose, and physical and mental heatlh.
Show More
Through my training, I began working with other surgeons who were struggling with the same personal issues of burnout, overwhelm, isolation, and loss of themselves so prevalent in medicine. I have since been chosen to lead the Wellness Task Force for the Society of Thoracic Surgeons and host The Resilient Surgeon podcast.
Discover Your Inner Compass
Understand the core of your personality, discover your strengths, and learn how to nourish them with Dr. Michael Maddaus, a certified provider of the PrinciplesYou personality assessment and cardiothoracic surgeon for over 20 years.
Understand What Drives You
Define and explore the different aspects of your personality that make you feel so uniquely you.
Practice In-Depth Personal Reflection
Gain a deep understanding of how your habits and behaviors influence your approach to both personal and professional situations.
See Results In Everyday Life
Find a healthier balance between the pursuit of your personal and professional goals that lets you show up 100% – both at home and in the workplace.
Feel More Like Yourself Than Ever Before
with a life coach who listens, understands, and guides you through it all.
Schedule a free discovery call
Your time is valuable. I promise to make the most of it.
As your coach, I work with you to navigate thoughts and gain clarity.
Tune back in to your unique self. Transform your life to one you love.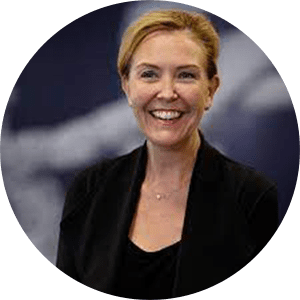 Jill Robinson
CEO of TRG Arts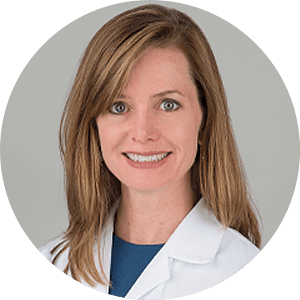 "Mike is a tremendous resource for leadership development in Cardiothoracic surgery. He knows our environment better than any executive coach because he has walked the walk. He has made it his life's mission to be facile with all of the best leadership literature, thought leaders, and the context for applying this to our careers. On top of these he deeply cares about the people he coaches. He inculcates us with wellness strategies and helps us with prioritization of work AND life demands, recognizing that we are not just surgeons, but moms, dads, daughters, and sons and partners to our significant others.
I am most certainly a better person, more self-aware, and poised to advance my leadership capabilities because of Mike's coaching. It has truly been a blessing to work with him.
Thank you, thank you, thank you for being my coach."
Linda W. Martin, MD
Associate Professor of Surgery, Associate Program Director, Cardiothoracic Surgery, University of Virginia Health System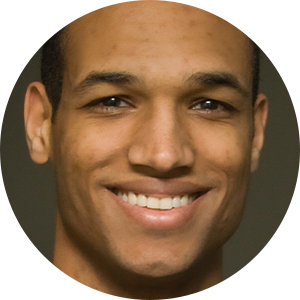 "I have been part of a surgeon's group that Mike has run for over 4 years. His depth of knowledge about being human and about the specific tools and techniques to be your best self in all aspects of our lives is sensational. He drills down the proven techniques to be intentional in all aspects of our lives that significantly impact our well-being. Working with Mike has had a major positive impact on my life, at home with my wife and children and at work, particularly in helping me know my true self better and in developing my leadership skills. Don't hesitate, and don't wait. The time is now."
Patei Iyegha, MD
Director of Level 1 Trauma Center, Regions Hospital
St. Paul MN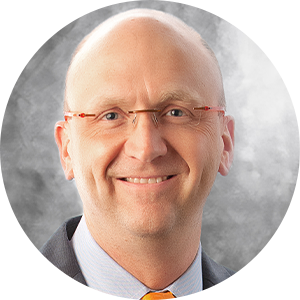 "Mike's magnetic personality, charm and vulnerability create an environment for honest and deep introspection and personal growth. He is a warm, genuine and honest man who wants to use what he has learned to improve the lives of all he can reach. He is highly skilled at being an astute listener and a non-judgemental observer of human interaction and conduct. His gift of clear seeing and assessment is carefully and patiently applied to simplify complex psycho-emotional constructs. Stones are not left unturned – he does not soft-sell his assessment of a situation and presents concise action plan options for the resolution of challenges, as well as ways to infuse increased joy in life."
Brad Linden
Pediatric Surgeon, Pediatric Surgical Associates
"Michael has an intuitive ability to engage authentically with large groups as well as in one-on-one conversations that enables his counsel to be absorbed and "sticky". A rare gift and rare content that our world needs so desperately now."
James
Thoracic Surgeon
Golfers have swing coaches. Baseball players have swing coaches. It's only natural that leaders and high performers need leadership coaches. Dr. Maddaus has been instrumental in guiding me to understand and organize the big picture and then dive deep into the weeds without getting lost along the way. More importantly, he emphasizes the value of self-preservation, wellness, and balance throughout the process. I offer Dr. Maddaus my unwavering and strongest endorsement. Thank you for what you do.
From an Academic Cardiac Surgeon and Division Head
Michael has an intuitive ability to engage authentically with large groups as well as in one-on-one conversations which enables his counsel to be absorbed and "sticky." His deep personal experiences during his academic surgical career and in his personal life combined with his vulnerability, candor, and remarkable depth of knowledge is a rare combination that provides rare and unique content that our world needs so desperately now.
Private Practice Cardiac Surgeon
Reconnect With Your Authentic Self. Gain Clarity. Build Reslience.
You've worked hard to develop practices to help you succeed as a surgeon. Now, learn daily habits proven to help you thrive.
As a surgeon life coach, I help you:
Leave limiting beliefs behind you
Rewire your mindset to feel more grounded and content
Find better alignment with your unique self
Transform stress into living with passion
Establish mindfulness and self-care practices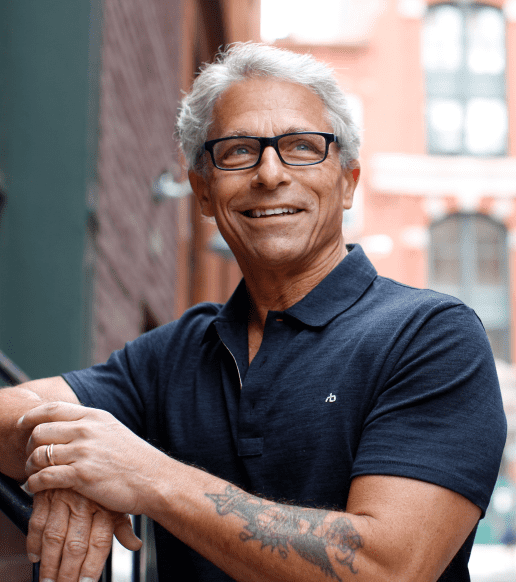 Download These Free Resources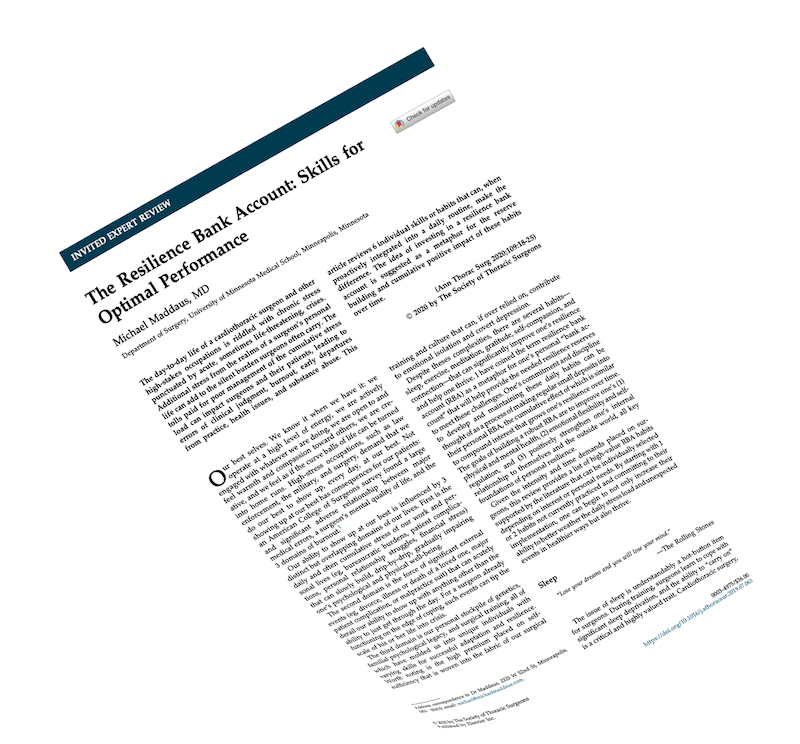 The Resilience Bank Account™: 6 Skills for Optimal Performance
Want to get back to waking up with purpose, passion, and zest for life again? Here's the kicker…optimal performance doesn't necessarily mean optimizing like a high performer with a day so dialed in they forget to really live.
Download the proven habits that took Dr. Maddaus from living a filled up life to a fulfilled life.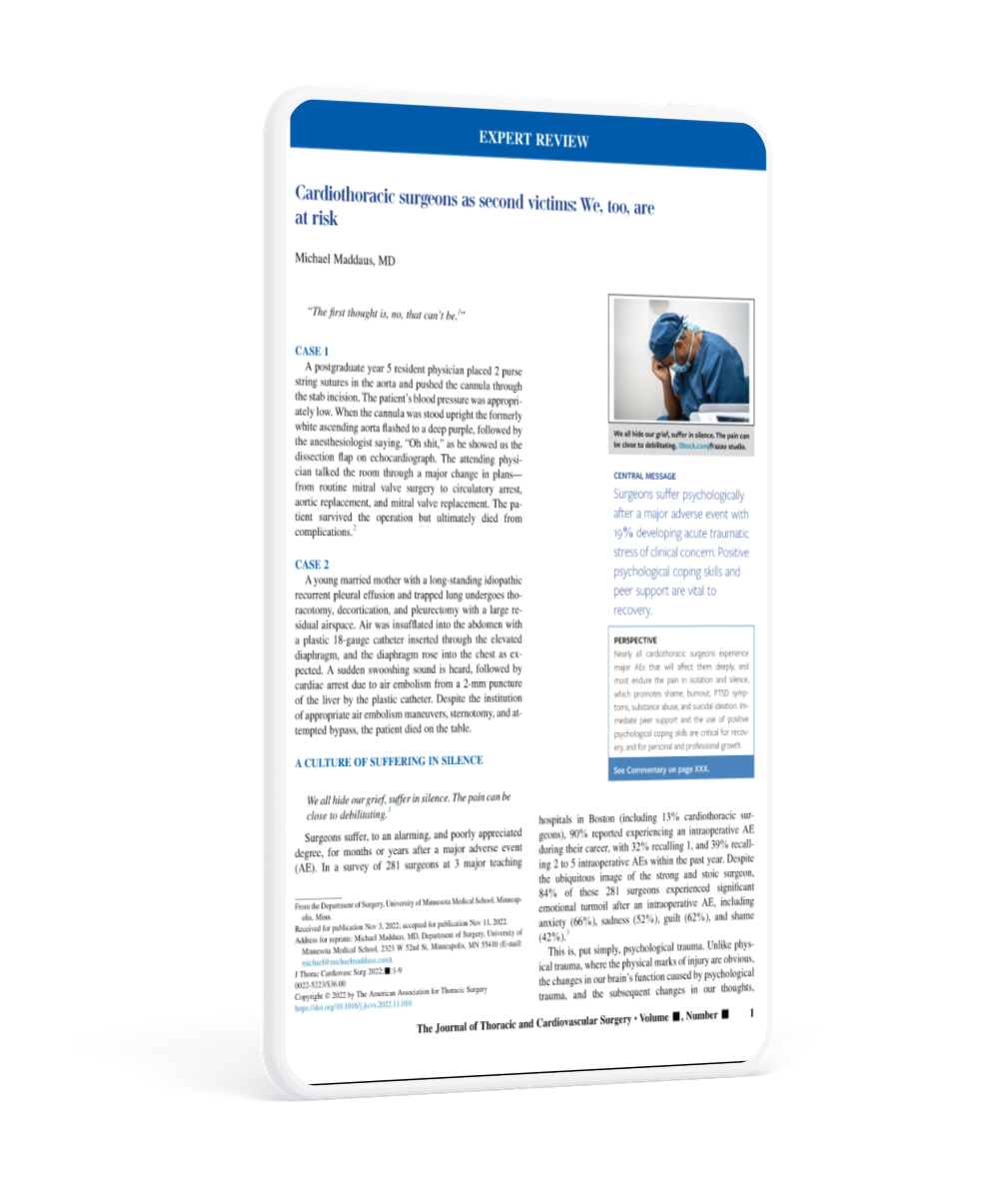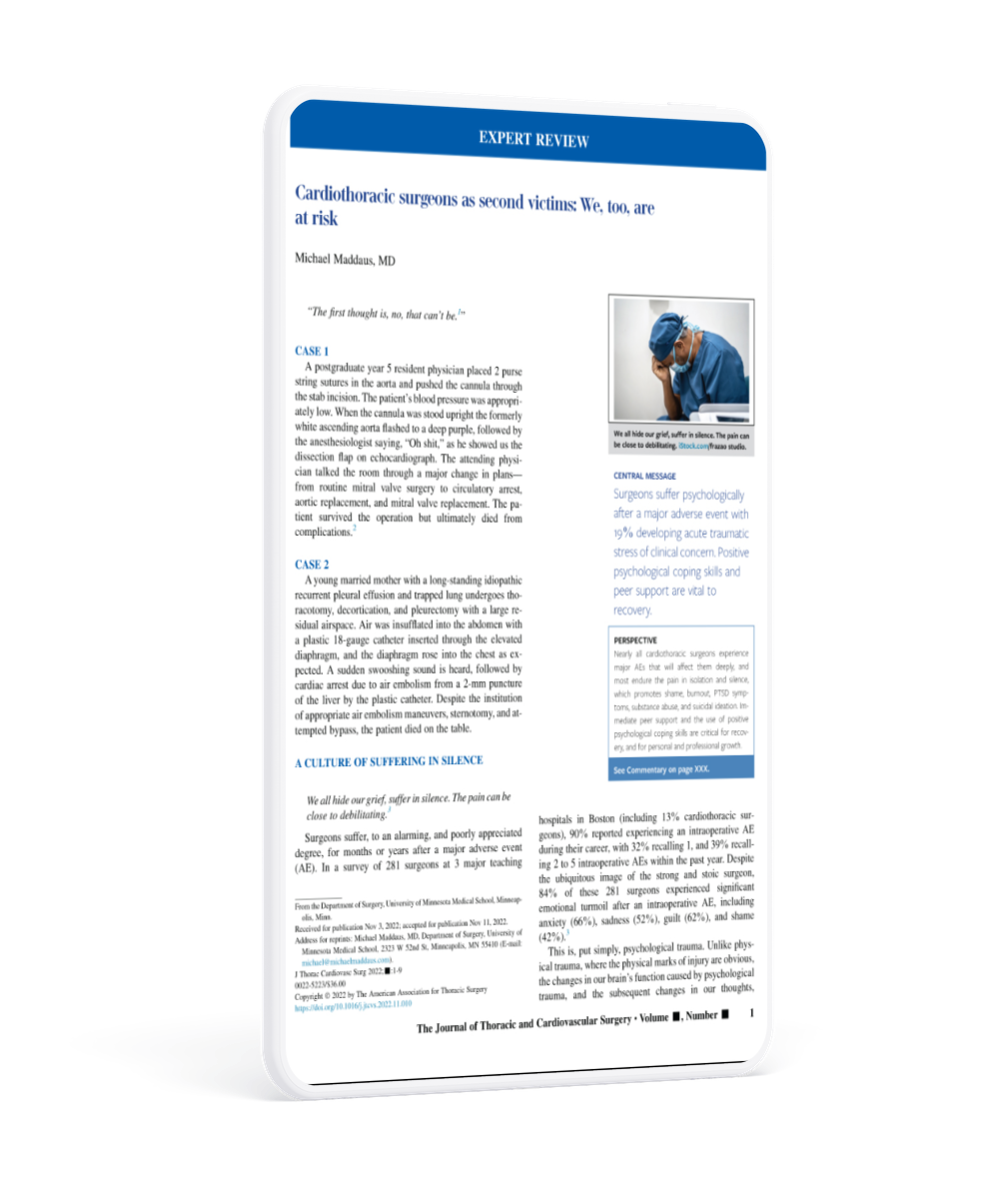 Understanding Surgeon's Emotional Challenges: A Path To Healing
The first step to overcoming trauma is understanding what causes it. Gain insight into the emotional rollercoaster that surgeons ride after adverse events in the operating room, and learn why positive coping skills and peer support are critical for recovery.
Download the PDF to discover a healthier framework surgeons can use to manage acute stress.
Schedule
Your Coaching
Discovery Call Today
Find your clarity. Feel the difference. Get sh*t done.
Stop feeling forced to live a life full of stress, perfectionism, and overwork.
Start living in a way that makes you feel connected with yourself, your family, and your community.
"*" indicates required fields